I'm on an adventure through the sun-scorched plains of Nevada. In my pocket is a Saxon minister, Saint Mary and the county of Devon. I head west, towards Las Vegas, a greenish-yellow pixel blob in the distance. I take "gambling," decide I'm bored, and teleport to NASA.
This is a five-minute excerpt of my time on Kevan Davis' Wikipedia: The Text Adventure, a surprisingly entertaining re-skinning of the encyclopedic website as a recognizably lumpy, pixel-art-illustrated take on interactive fiction. Each page is a location, with directions offered—go west to see the Temple of Zeus at Olympia, or go northeast to find the Syro-Malankara Catholic Eparchy of the United States of America and Canada.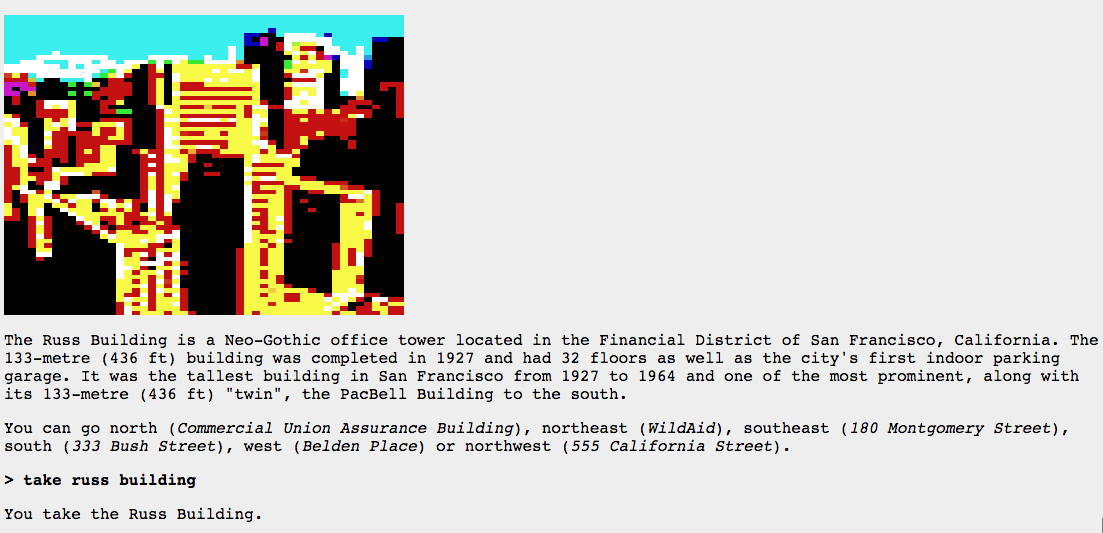 There are, of course, games that have formed around the network of knowledge that Wikipedia provides—a friend and I spent a memorable evening giving each other targets like "bread," starting off on the same random page, and trying to beat each other to the goal through simply clicking on the links within each page. Rumor has it that clicking on the first link on any given article will eventually get you to "Philosophy."
But Davis' take provides a level of absurdity that abstracts even further from Wikipedia's point of edification. You are no longer merely a researcher in a vast library; you are a thief of history, a hoarder of words.
As with most text adventures, you have an inventory, and as soon as you discover that you can "take" things from each page, the journey becomes less about a leisurely walk through the sum of all human knowledge and more about wanting to fill your pockets with stupid things. I currently own the whole of Canada, an entire city block, October 16th in the year 1834, and 3,800 coastal islands.
I just haven't found which door they unlock, yet.